Good Saturday morning everyone!
My macbook is back from the doctor, so now that my screen works I can share some projects with you! Jonathan and I have been in our (rental) house for about 4 months now, and over the last months i've finally gotten some things on the way!
These projects were something I knew I wanted to do, but did want to wait until I found materials that I could repurpose or put new life into. These are projects that anyone could do at home I'm certain of, and were an easy weekend afternoon time-frame project too.
First up, my purple mirror!
I got this mirror at the St. Vincent de Paul shop down the street for $8. Yep, just 8 whole dollars. At Bed Bath and Beyond I was seeing mirrors on sale for $35 but that just wasn't going to cut it for me, and I wanted a little project to work on. So, this wobbly and not-quite-perfect came home with me for some TLC.
It seemed like a nice piece of glass, although there are some patina like speckles throughout the glass (which I actually like in this case, and adds some good character and charm to our living room). The wood frame was old and not holding the glass well, but I knew with just a few basic parts I could get it put together so it (hopefully) wouldn't fall off the wall.
To start though, I had to inspect how this thing was put together and get it sanded down.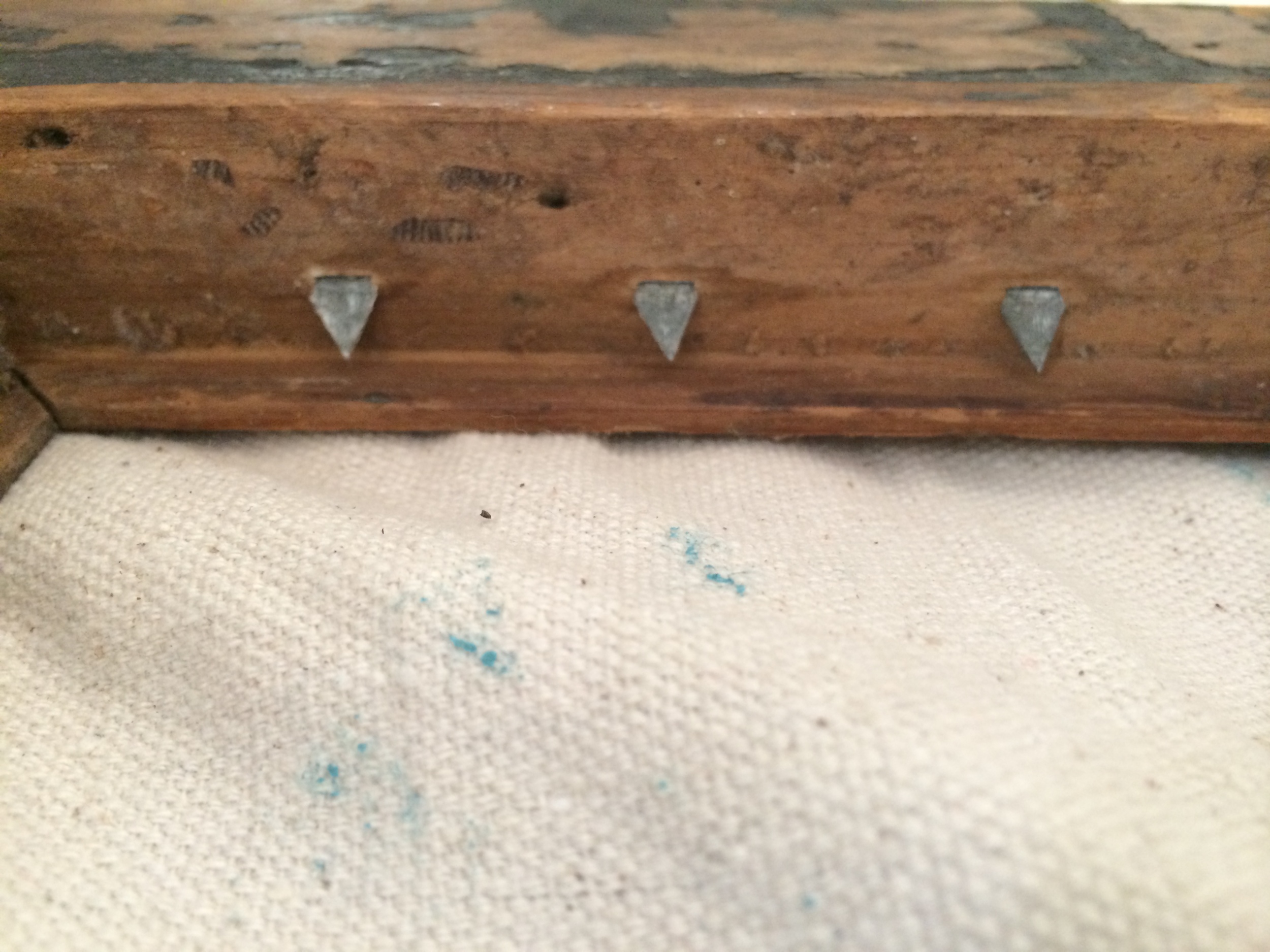 In the photos above you can see what I was working with... nails, teeth like holder things, and old hanging wire that was falling apart and very scary looking. First off I removed the mirror so it wasn't in the way and so I couldn't break it while I sanded it down. The sanding was pretty easy, using a more serious sandpaper to get the top layer off then smoothed it out for painting.
I also knew that the frame would need some support before being hung back up, so I got these simple little L brackets to screw into the back. I could have gotten slightly smaller ones, but I figured bigger was better and really couldn't hurt at this point.
Next up was painting! I went back and forth with colors for a while, then JB mentioned having it match the front door and transition from the door to living room which I did really like. So, without going quite as dark as the front door we decided to indeed go with purple for a good pop of color with the tan couches, white/yellow pillows and tan/blue curtains!
I'm really happy with how it turned out! The frame is just thick enough to have a good impact, and fits perfectly above the ironing board. The picture below shows the freshly installed mirror - with super duper strong hanging hooks so the thing wouldn't fall out of the wall!
The other simple painting project I worked up was a basic little EAT sign. I'd seen a lot of antique letters and other wooden letters online, and when we had an extra piece of panel around I knew exactly what to do with it!
Even less photos of this project - but that's just how easy it was! The panel was already but from the hardware store, so I found a text I liked, penciled it out, and applied some simple red acrylic paint! Once I was done painting it I attached a simple toothed bracket on the back side and hung it up! We've definitely got some more things to get organized in the dining room, including maybe getting something to make a buffet or bar top out of, but this is a good start and adds some country woods feel to our Florida beach-y house. But below you will see the sign hung up! A little clutter in the photo, whoops!, but shows we really live here!
Well folks, theres the update of some of the little painting projects I've been working on! Coming up soon i'll post some photos of the collage wall - it's a lot more developed than the blue taped out wall that i'd had up for a while, and we even found a little ships helm yesterday that makes a perfect addition.
All for now, Saturday fun and cooking to continue now!
Cheers, KC